29th September – 9th October 2007
Posted on October 4th, 2007
Bruce Robson once again lead his merry band of Super Seamen to the Coral Sea. Here is his story: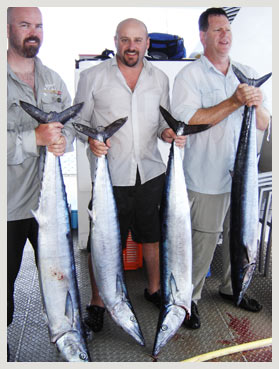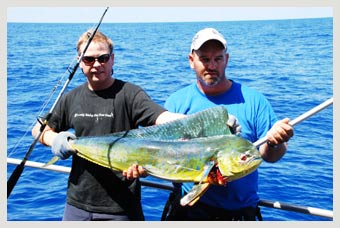 Fishing charter on TSMV Kanimbla from 29 September to 9 October 2007 – Saumarez Reef, Frederick Reef, Kenn Reef.
Bruce Robson
  We departed the Gladstone Marina at 1700 hrs and headed into a light wind which produced very little chop.  The weather forecast for the next week was looking magnificent and we had every reason to believe that this trip would be highly successful.Sunday 30 September saw us trolling towards Saumarez Reef with the lures out the back.  We had no strikes from billfish on this, or any later part of the trip.  We trolled pass Zenobia Rock and over the drop-off towards the North East Cay.  Dom caught a dogtooth tuna of 17 kg, and Paul caught a striped mackerel in what was generally a slow fishing session until about 4 p.m. when Todd caught a 17 kg wahoo and a couple of yellow fin tuna being caught by TJ, Dom, and John.  Fish of the day was shared by Todd and Dom with their 17 kg catches. Arriving at Frederick Reef at 2 a.m. on Monday after a bumpy ride, the wind was 18 kn from the southeast in the morning and eased later in the day.  After a good dory session where Starlo caught 4 wahoo and Grant 2 wahoo, Dom eclipsed everyone else with a 41 kg wahoo and a good giant trevally.  A large number of wahoo were lost.  In the afternoon Kevin, Jamie, and Dom caught one wahoo each.  On Kanimbla there were catches of white lipper and green job fish. Typical of some of the excellent catches was a Maori Cod by Paul and a Green Jobfish by George.  Fish of the day was easily won by Dom for his large wahoo.Tuesday 2 October saw us feeling refreshed after a good night of sleep in the lower lagoon at Frederick Reef.  The wahoo were definitely on menu even though the wind remained at 18 kn.  Kevin and Dom caught 6 wahoo while Bruce, Reg, and Paul caught 4.  There were many other fish caught that morning with Starlo catching a wahoo of 37 kg, yellowfin of 22 kg and a small dogtooth tuna.  Steve and George increased the numbers of white lipper and green job fish.  In the afternoon Grant, Starlo, and Todd went to the sand cay, where they caught bluefin trevally and coronation trout on stick bait and poppers.  TJ managed to land a 4.5 kg green jobfish on his flickstick after being given a good run for his money.  Fish of the day was shared between Starlo for his 37 kg wahoo and TJ for his green jobfish.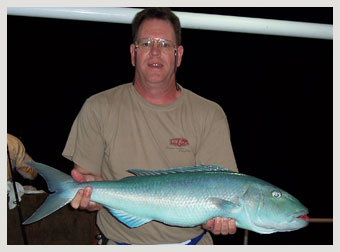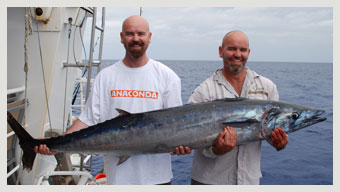 A wind of 20 kn from the east on Wednesday – and all thoughts of 10 days of calm had disappeared.  It was difficult to understand how we could have so much wind when there was not an isobar within many hundreds of kilometres of us on the synoptic chart.  The morning was spent at the southern end of Frederick Reef and the afternoon at the northern end.  We kept 14 wahoo and released many more that day.  Some good trout cod were caught off Kanimbla and the evening fishing session saw many bust-offs from sharks.  Fish of the day went to John Muscat for his first-ever wahoo. The long promised calm conditions were suddenly upon us on the Thursday and we decided to take this opportunity to visit Calder Bank.  Wahoo were everywhere and often after a catch and release, Kanimbla could not even get up to troll speed before the next strike occurred.  We probably released about a hundred wahoo that day and kept only three, which were too injured to survive.  On some occasions wahoo were jumping up to 30 feet into the air and just behind Kanimbla, with some of these leaps being caught on video.  Garfish proved to be the bait of choice. It was the first time that such spectacular leaps by gymnastic wahoo were seen by a number of the fishermen on board.  During the middle of the day we spent two hours bottom fishing for a large number of coronation trout, green job fish, and white lipper.  Many of the participants said that it was the best ever fishing day they had experienced during their life and acknowledge that they may never experience such excellent fishing again.  We trolled as we left Calder bank for Kenn Reef and Charlie managed to attach a blue bucket to Todd's line which ended up creating mirth amongst the other fishermen.  Fish of the day went to Greg Croker for his first-ever wahoo.Friday 5 October started with an arrival at Kenn Reef at 6 a.m.  The day was fine and sunny with few clouds and a pleasant 5 to 10 not easterly wind.  There was a low chop and is well and the conditions looked excellent.  Despite optimism we only caught a few wahoo which were subsequently released.  A few green job fish and coronation trout were caught off Kanimbla while Bruce and Reg plumbed the depths (to 750 m) unsuccessfully for swordfish. Richard caught some coral trout, and a few smaller yellow fin tuna were caught and released by those on board. Todd managed a lovely 13 kg coral trout which became fish of the day.Low wind conditions occurred on Saturday, and in the morning we trolled to the southwest extreme of Kenn Reef.  We all fished on Kanimbla for average catches of green job fish and coronation trout.  In the afternoon five dories went out in beautiful conditions.  Only a few wahoo were hooked, and then lost.  Some of the dories went to the cay and the fishermen inspected the wreck long-liner.  That night a large number of green job fish were caught off the back of Kanimbla, and poor Charlie awoke the next morning to a task that he did not relish – curved green job fish to be filleted.  Fish of the day went to Peter Milczarek for a 7.5 kg coral trout.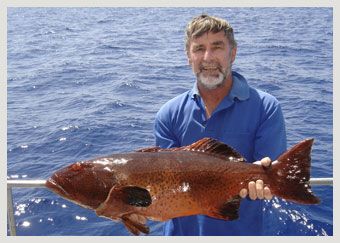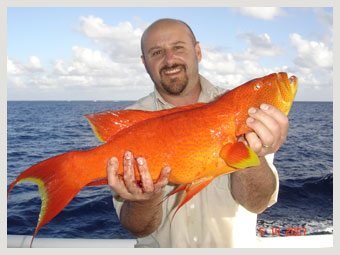 Sunday 7 October saw only a few fish caught from the dories including a blue spot coral trout of 9 kg by Bruce and a couple of blue spot maori cod from Kanimbla.  We left Kenn Reef for the long journey back to Gladstone with a very low following swell €" it was an extremely comfortable trip. Fish of the day was a 9 kg blue spot marry cod by Reg Latter.Monday 8 October was a day of travel over the voids without a strike, and we returned to the Gladstone Marina in the early hours of Tuesday morning for our usual cooked breakfast and fish distribution before saying farewell and returning home. Fish of the Trip was awarded to Dom Lum for his 41 kg wahoo, Fisherman of the Trip was awarded to John Muscat for all his catches on his first fishing charter on Kanimbla, and the Arnie Award went to George Calleja for his demonstrated muscular prowess which unseated his Penn reel – this was despite his protestations that he was not responsible for its demise [a truly modest recipient of this prize!].  Bruce Robson was awarded the Bullshit Award for his unsuccessful attempts to catch a swordfish.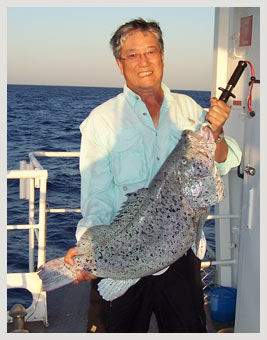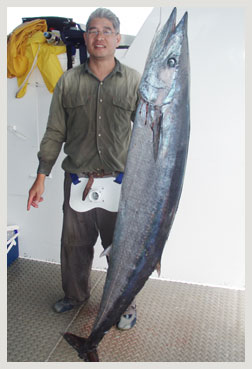 As always the captain [Bruce] and crew [Charlie, James, and Billy] were thanked for their continuing and tireless efforts to make our trip so enjoyable.  The cook [Jim] came in a special mention as a consequence of his many delicious meals.  You can find Jimbo's Schezchwen Tuna recipe under the 'Recipe' section of this blog.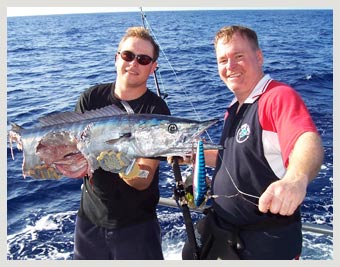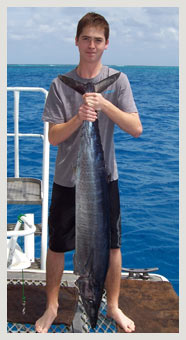 As usual with a number of lessons from the trip;
some reefs provide better fishing than others,
there are a lot of wahoo still in the ocean [we put back hundreds] and releasing them €˜alive and well€™ is tricky but quite possible,
we are all getting older and need to physically prepare ourselves before the trip.
Other stories