3rd – 10th December 2009
Posted on December 10th, 2009
Local fishing club extraorinaire – YarrallaFC had a great week of fishing.
Here's Charlies story:
Swains Reef 2009 Trip Report – Kanimbla
Louise once again picked the departure dates and once again we had good weather for the Swains trip departing Wednesday 2nd December and returning Wednesday 9th December.
New skipper for us this year with Aaron, James and Steve ( the chef ) were from last year and we had Kristy as the new decky too. Once again we were spoilt with great food; I have to lose weight before I get on the boat as I always put on 4kg in a week on this trip. All the activity on the dories and I still put on weight, the food is just so good you can't leave anything…..
I'd been busy with work through the year so couldn't put much effort in to the organising and had to rely on the information from previous trips to keep everyone informed. Bruce, Scott, Jason, Mick Chadwick and Darren couldn't make it this year and we replaced them with Mark Burke from Sydney, Barry Valinoti from Townsville, Dawn Murray, Martin Marek and Kenn Fischer from Gladstone. Dawn and Kenn have fished the Swains before but the rest were new to this type of fishing.
We thought we may have to replace Roy at the last minute as on Monday 30th November ( 2 days before departure ) he put a drill through his finger and damaged the tendon. He was going to have to go to Brisbane to get it fixed but after a bit of negotiating with the doctor he managed to talk him in to letting him come out fishing and getting the finger fixed later.
I can't say much as I'm always knocking lumps off of myself and went out with a broken toe obtained from the last trip of the year on the Lady N.
It is great how everyone on the trip helps out, and this is one of the really special attributes we have as a group, how every one volunteers and does roles throughout the trip without even a second thought. Gary did the dory roster, John was the weigh master, Tanys was the dory ice producer, Ross did the photography and water bottle filling, Kenn and Martin did the cellarmen duties……hope I've not missed anyone out….Roysie produced the hooch, great G&T's after a hard day on the water….oh and Barry was ringmaster on the dory with Gary and Jim on board….!!
Back to the daily log format of the report, writing this after the trip always brings back the memories of the great time had by all so it never ends up being a chore, it is just finding the time to do it these days, just the thing for a rainy Sunday.
With the departure being on Wednesday the 2nd December I took holidays from Friday 27th November through to Tuesday 15th December as we were returning on Wednesday 9th.
I had plenty of time to get all the gear together and everything cleaned and serviced ready for the trip. As with the weather you can never tell this time of year I did some packs of sinkers up with various sizes in from small to heavy reef so everyone had an assortment to get them going.
Grog was all bought from the bottle shops on Christmas specials instead of Yaralla, as it presented a problem to the cellarman last year, I was asked by Morgan if we needed Yaralla to supply, and I explained what I'd done and why, and I think Yaralla want to supply for the next trip. I tried to cater for all the requests and we had light, gold, low-carb and heavy beers.
Once again a real big thankyou to everyone as the items consumed to those booked tallied to within cooee. No levee required for anything.
Amalgamated team organised mullet for their group and Keith and I organised mullet for our dories, so we had a good set-up of dories with mullet on board to see if it was a benefit, and it was. We will put mullet on each dory for the 2010 trip and I'll organise from Urangan the 5kg boxes. I used 15kg for my dory for the week so if we have 6 dories I'll get 90 – 100kg and if we go with the 7 dories I'll get 105 -115kg to give a bit of padding. We had practically zero waste from the 5kg boxes and they didn't need soaking to break up so they could be kept cold on the dories until used. Whatever it costs will come out of the trip GST refund.
I popped in to the Cash Converters and they had a couple of Garmin 72 hand held GPS's for $119 each and a almost new Penn 114H overhead trolling reel, so I bought one of the GPS's and advised the rest of the members about the other gear, Ross bought the other Garmin and Keith bought the Penn reel. I should ask for commission next time…!! It was good as Tanys has the same Garmin unit and she is an excellent teacher, if only I was as good a listener…..
Back to the log again……!!
Wednesday 2nd December :-
Went down to Urangan and picked up the mullet and some sacks of ice for the grog esky. Kenn came around with his truck and John and Tanys came around to help us load all the grog and gear up, Gary is still looking for our house in Capella Street from the 2009 trip…..
Down the boat at 10.00am and we were able to start loading when we arrived. Introduced Kenn to the beer fridge and the storage area and he found the low beam that claims a lump of my scalp every year, he's a much faster learner than I. After we loaded all the club gear and set the esky up Janet and I came back to collect all her gear…..
When we got back everyone had found their cabin allocation and was storing their gear, Mick, Hoves, Mark, Gary and Jim arrived from Brisbane and we met Barry who'd driven down from Townsville. By this time it was lunchtime and we were due back on board for 4.00pm for the departure briefing before the around 5.00pm departure tide dependant.
Janet had the most gear followed very closely by Tanys and Dawn; we guys had very little in comparison to all the rods and reels they brought. I bet a cop a bagging for that one…..!!
Winds on the local forecast were 20knots inshore on a SE swell, bit sloppy but not bad at all really, I still took a sleeping tablet just to get some rest. Tanys slept in the galley as the elevated cabins do have an exaggerated movement compared to the rest of the cabin areas.
Evening meal of chicken legs with salad which was very well received and from what I understand everyone including Keith kept down…..
Thursday 3rd December :-
Hickson Cay was our starting point for this years campaign and all dories went out, Martin wasn't the best in the morning but to his credit he kept fishing. Had to have a spell for the afternoon though just to get his sea legs, looked good by teatime and he had a bit more colour to his face.
Winds were from the SE to E all day around the 20knot mark. It was hard fishing with the run-out tide and we struggled to get fish. Dawn did excel by pulling up a rather large and angry octopus. Dawn did want to know if we should keep it for bait but at that size it was far too big so I managed to get it off of the hook without getting her line in too much of a mess.
After dinner we fished off of the Kanimbla and we did catch some very good red throat on the shoaly country we were anchored over, every now and then we would get hit by a steam train and we did pull up a couple of spangled emperors of quite good proportions too.
Breakfast :- Bacon and eggs with tomatoes
Lunch :- Prawns and salad ( heads were saved and used as burly in the afternoon session )
Evening meal :- Roast lamb with veggies, plenty of good food for all.
Friday 4th December :-
During breakfast we moved up to Sweetlip Reef, Aaron advised they'd caught good fish here the week prior. Morning session was quite good on the flood tide with good fish were boated. Afternoon session was very slow in the run-out tide, first time ever we never brought a fish back in the dory, we were not the only dory to do this so we didn't feel too bad.
Barry caught a turtle through the flipper and it took a bit of effort to get it to the boat. I had to go one better and hooked one in the mouth, now he was upset but we managed to get the hook out and let him go. Janet wanted to get in the act with species you can't keep and brought in a very unhappy reef eel.
Much discussion in the afternoon so we had to have post fishing drinks with Roysie's special gin squash, very refreshing but we forgot what we were talking about…!!
Breakfast :- Sausage, eggs and tomatoes
Lunch :- Steve's special lasagne
Evening meal :- Pork shoulder roasted chops with veggies
Saturday 5th December :-
Stayed on Sweetlip for the flood tide where we caught the fish Friday and then moved up to Sandshoe during lunch.
Good fishing in the morning again and a struggle during the run-out tide so it was quite clear the flood tide is when we were in to the fish. Second day in a row we didn't bring a fish home during the afternoon session.
Wind started to drop during the day and the afternoon was much more comfortable with 10-15 knot SE breeze.
During the morning we explored many gutters that looked as if they would be good holders of fish with only a couple on board so I was beginning to doubt my knowledge of the reef. We came on yet another coral scree gutter that looked rough but reasonable, bingo this was the money spot holding big red throat and plenty of them passing through.
Martin found a new seat and a new way of producing good pilchard burly by sitting in the bait bucket.
Mick was having a torrid time trying to break off his line hooked on the coral, after a big pull it snapped and Mick lost his balance. Now these dories are 4m and with three people in them they're very comfortable but with well endowed guys the room is at a premium….. Mick did a back summersault to miss Roysie, and landed in the front of the boat without crushing anyone. Much applause from Hove's and he scored the back-flip with half twist and pike an 8.5. Roysie was spluttering for another hour……!!
Breakfast :- Flap-jacks and/or toast
Lunch :- Pizza with salad
Evening meal :- Steak with veggies
Sunday 6th December :-
With the wind keeping around the 10-15knot SE we went up to Taiwan Reef during breakfast. Flood tide was slow today on top of the reef but the fish was very good quality. With being at Taiwan we could fish the shoal country during the afternoon. Good trout and red throat from the shoals including a big squid. I pulled up a finger-mark Sweetlip with a squid hanging off him, with not having a landing net I had Janet pull in her bait and the squid kept sucking on it so when he was close to the boat I gaffed him. Now that wasn't the best decision I've ever thought through as I was wearing a white sun-top and a white hat, transformation was instant and I spent 15minutes washing the boat.
World championship of 500 was on tonight so the lubrication flowed and the rock music with Gary's library of discs was cranked up. 2009 world champions are Gary and Jim with Roysie and Hoves as runner-up.
We carried on fishing with a couple of squid and red throat in the basket ready for the morning.
Breakfast :- Mushroom, bacon and eggs
Lunch :- Smoked salmon Caesar salad
Evening meal :- Chicken Crepe's and salad
Monday 7th December :-
During breakfast we pushed up to Hook and Sinker reef, Aaron advised it had good shoal country and reef ledges that have been known to hold big fish and with it only being able to be fished during good weather it doesn't get hit as much as the southern sets of reef.
Ladies day today and the three girls had a dory to themselves, nailed the morning session with a big catch of good fish. In the arvo they had a little problem though starting the boat, I can't say anything myself as I've done the same, kill switch lanyard came off.
Jim had an eventful morning with the first spot, he dropped his new purpose built rod over the side, Gary pretended he hadn't seen and was asking Jim what he was doing, sputter…splutter…..!!
Picked Steve up from the Kanimbla after marking the spot with a buoy and he free dived on it and retrieved the rod complete with line intact…..
Good sandy gutters but it was the coral shoal gutters that were holding the red throat. I was with Brett and John and we decided to have a look at sinker reef in the arvo. Found a good hole in the reef with some nice deep bommies. Good red throat were caught and Brett hooked a big trout but had no chance of turning him.
Copped a ribbing from Brett when I tried to skip over the reef edge, not enough water, close but not close enough….
Steve welcomed us back in the arvo with a platter of calamari nibbles done in a tempura batter and a dipping sauce.
Trophy night too so we had to get organised for a big night……
With us being out in the dories all the time Aaron and the crew, after they'd finished the daily chores, went out free diving for trout and crayfish. All the trout for the special evening were caught by the crew and the crayfish were something special. We have to thank the crew for such a special evening for the trophy night with the food expertly prepared by Steve.
Monday 7th December continued :-
Breakfast :- Oven baked omelette
Lunch :- Beef and ham stroganoff with salad
Evening meal :- WOW – Entrée Crayfish mornay with trout wings
Baked whole coral trout with Steve's special Kanimbla sauce.
Baked profiteroles dipped in mint chocolate.
Now you know why we always put on weight on these trips, fantastic feed you'd have to pay zillions of $$ for in any restaurant.
Trophy Night was themed towards Super Hero's ( thanks to Mick F )
What a rollout too, please excuse me if I've missed someone……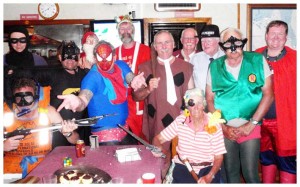 Gary – Team Shambrook ( hero's but not quite a super-hero…!! )
Dawn – Grace O'Malley the pirate ( hero to some but not quite a Super-hero too )
Charles and Janet – Mr and Mrs Clause ( hero to kids but still not a real Super-hero )
Kenn – Fred Flintstone ( hero to me but not from the classic interpretation of Super-hero )
Hoves – Wally Lewis ( definitely a Super-hero for all Queenslanders but not quite the right group )
Mick – Mick Farr ( he wore his training rep Aus jumper – still fits Mick…!! )
Real Super-hero's
Mark – The Phantom ( great outfit )
Ross and Keith – Superman and Clarke Kent ( well done as alter-egos )
Roysie and Martin – Batman and Robin ( Roysie was Robin and the tights were very revealing )
Brett – Spiderman ( complete with web aerosol sprays )
Aaron – Aquaboy ( brilliant outfit at such short notice )
Winner was so hard to pick as so many had gone to so much trouble to make the evening such a great success….
Kristy had never seen anything like it on the boat before, we've set yet another first….!!
Large boxes of choc's were won by Spiderman, batman and Robin
Small boxes of chocs were won by Aquaboy and Dawn the Pirate
Who we picked on :-
Jim – Bob the Builder with all his developer work
Roysie – coffee mug – CAT racing for the story of leaving bait in the boat at home
Mick – coffee mug – RS – to remind him every Monday morning between trips
Gary – coffee mug – Aged Care facilities – he's retired this year.
Brett – coffee mug – Bundy Rum Bear – like Mick for coffee on a Monday morning.
Barry – Paper Bullshit Bags – for all the crap from Gary and Jim in his dory
Mark – book of tall stories – so he can impress the Sydney office about the trip etc
John and Tanys – seafood cookbook – had to ring Hoves to find out how long to cook a mud crab so now they know.
Hoves – Rubik Cube – only one on the trip that would have enough patience to attempt to do it.
Trophies :-
Ross – Spangled emperor @ 3.4kg
Kenn – Trout @ 2.71kg
Ross – Red throat emperor @ 2.96kg
Gary – Parrot @ 1.24kg
Tanys – Other species – Trout @ 2.65kg as the best runner-up fish as we'd had no mackerel etc.
It was a big night and we had a few drinks to round the big week off…..
Tuesday 8th December :-
Aaron took us down to gator shoal as it is very rare to fish this area from the dories as normally the wind will not allow access to this open area. Very interesting area I would like to fish some of the drop-offs we found as we went down the shoals.
All dories caught good quality and quantity of fish with Kenn bringing back a green jobfish. Dawn pulled in a piece of coral that turned out to be a big barramundi cod, same result it had to go back in.
John and Tanys was the last dory back and the 2" deck hose was used to cool them down, I think the terminology is drowned, you always have to remember to be back before Roysie on the last day….!!
Good run home with smooth seas and hardly any swell even in the Capricorn Channel.
Breakfast :- Eggs Benedict with ham and cheese on English muffins
Lunch :- Platter of fish cakes with cold meat and salad to follow
Evening meal :- Steve's home made pizzas.
Aaron copied the photo digital camera chips onto a disc for everyone to have a copy, great souvenir.
Wednesday 9th December :-
Docked around 4.00am followed by breakfast of " deckies revenge " bacon, eggs, tomatoes and plenty of toast.
Grog :- More or less spot-on with numbers and no levy required as the cents round-up covered.
31 cartons total consumed for the week which is the norm for these trips.
As a wrap up I would like to say thankyou to everyone for making the trip so good and easy to manage.
I think we can say the Kanimbla crew were super with the help and assistance with everything; crayfish were a most welcome addition. Adam, Kristy and James made sure we had everything we needed in the dories and Steve once again pumped up my waistline, the food was very good and all those little extras that we were treated to in the afternoon were mouth watering.
Gary did an excellent job as dory captain, John as weigh master, Tanys as the ice brick maker, Kenn and Martin as the beer fridge cellarmen, Ross as the water bottle filler and the trip photographer, made sure everyone shared the workload.
Roysie did a top job with the G&T's for the afternoon session.
We are due to do it all again from Monday 6th December through to Monday 13th December once again on the Kanimbla.
I'll get this draft out so everyone can have a read and when Ross gets some free time we will complete.
Charlie H 21/06/10
Other stories