4th – 11th June 2010
Posted on June 16th, 2010
Reg's Crew from Nth NSW had  fantastic week of brilliant weather and great fishing. The last 6 weeks have been ideal conditions on the Great Barrier Reef with calm sunny days and abundant fish. We get to see some of Reg's crew again in November for a 10 day Coral Sea charter. See you all 26th November . (FRIDAY GEORGE!!!)
Here's Bruce Story:
Reg's Trip 4 to11 June 2010
This trip started with a few unusual challenges. On the way north our convoy of 3 cars were sideswiped by a mini cyclone that obliterated some sections of Lennox Heads. Despite strong winds, torrential rain and hail we soldiered through it all. One of our group had to find a last minute replacement after a family health issue. Two of our group thought that the trip started a day later than it was scheduled to – despite reminders. One was fortunately reminded on the phone, however the other starter was still in Melbourne as Kanimbla departed from the dock. He had to be brought out to Kanimbla a day after it arrived at Swain Reefs.
The trip out was exceptionally calm with a light south westerly on our tail. The morning session produced a number of red emperor, coral trout and sweetlip. Reg led the pack with a 6.4 kg red emperor. Bruce topped the trout with a 3.6 kg example and Peter a 3.4 kg spangled emperor. The wind varied from 12 to 20 knots with more in the afternoon and this appeared to put the fish off the bite. Few fish were weighed in and Fish of the Day went to Reg for his red emperor, Boat of the Day went to TJ, Dave and Len.
Saturday night saw us with a few more red emperor as we sat on a bombora. Sunday morning saw us fishing off the back deck as we waited for our tardy fisherman. Dave caught a coral trout which weighed 4 kg. We waited for the tardy angler and had to chase him all over the Swain reefs – and did not find him on Booby Bird till 5 pm. As compensation for a lack of fishing there was a general increase in consumption of alcohol. By george, anyone who misses the boat will not be chased on future trips. Fish of the day was Dave's coral trout and there was no boat of the day. It was a day that most would prefer to forget.
Monday at Heralds Prong Reef saw us with Dave again doing well with a 30.2 kg Spanish mackerel and 7 good spangled emperor off Kanimbla in the morning. As it hit the deck the hooks fell out of its mouth!! Most dories went poorly in the morning and afternoon, some with no catch at all. Reg's crew "Men at Work" got dory of the day prize. Weather was improving with winds now down to 10 to 15 knots.
Tuesday saw us heading to the nearby Second Prong Reef where our catch rate improved dramatically. With 180 packs it was not a bad day however the pro fishermen also reported that their catches were dramatically down on their usual numbers. The Three Bandidos [aka Amigos] were the boat of the day and the fish of the day was a 3 kg trout by Pete C. The weather was also improving with variable winds to 10 knots. Team Heineken had a reasonable catch in the shallows, however the fish were spread over a wide area and a lot of energy was put into the outcome.
Wednesday again saw an improvement in the weather and we experienced an almost glass-out. Fortunately the fish also came to the party and actually seemed to be hungry, especially in the morning. The morning provided a substantial number of fish with a slightly lower number in the afternoon. TJ caught an 8 kg red emperor, and later Paul got a 20 kg Spanish mackerel on a live grassy. Overall we achieved 216 packs. Bruce caught a catch and release manta ray by accident, and as it swam away George also hooked it, before it being released again. This was a first for both, and no one could recall a previous similar event. Catch of the day went to Paul for his spanish mackerel. Boat of the day went to Big Bad Bob and the Nott Brothers.
Thursday saw an increase in the wind to 20 knots and we fished at Big Sandy Reef. Men At Work filled a tub in the shallows while Dave pursued mackerel with 2 more in the deeper water. Most boats had a reasonable catch of the usual reef species. We returned to Kanimbla at 11 am for a bumpy ride back to Gladstone, however after an hour or two the seas settled and it turned out to be a comfortable trip. Boat of the Day was Men at Work.
Awards were: Best of species – Coral Trout – Dave
Sweetlip- TJ
Red Emperor – TJ
Spangled Emperor – Craig
Cod – TJ
Other – GT – Kevin
Hard Luck Story – George
Fish of the TRIP – Dave
Fisherman of the trip – Bob
The skipper, chef, and crew provided their usual excellent service and the improvements to Kanimbla made life even more enjoyable.
****Some time later…..Peter baked this delicious Trout – go to the recipes page to find out how.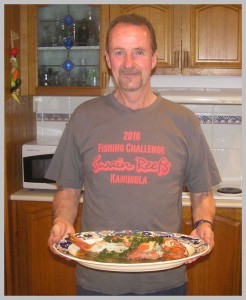 Other stories