Welcome to SeaWorthy- a blog
Posted on April 12th, 2005
Hi everybody and welcome to SeaWorthy- a blog from Kanimbla
Charters. To the uninitiated a 'Blog' is short for Web Log or Diary.
They provide a great way of sharing information with friends, clients
and colleagues.
For all our guests that visit us on charter and
here in cyberspace our blog will provide you with a diary of previous
charters, a photogallery and a place where you can share your thoughts,
find new friends and possibly join an existing charter through the
'comments' option.
The previous charter diary will be updated
each week with Capt Bruce playing photographer/historian. But just a
word of warning… if you don't want ALL the details of your charter
broadcast through the blogosphere, please let Bruce know so we can come
to some financial bribe agreement!
For all our budding Hemmingways out there, we invite you to submit your
fishing/ diving stories and photos via email so we may post them for
all to share. Please limit your epics to 300 words.
As this is the beginning of our charter season we would like to introduce you to our crew: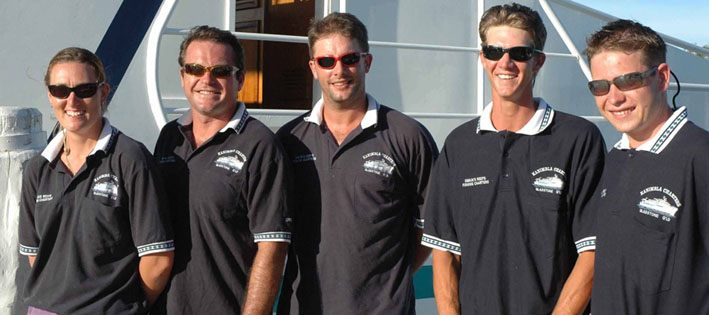 Your Skippers/ Engineers, well known to most of you, are Garry and Bruce.
1st
Mate/Cook is Adam. Just about family, Adam has been with us for nearly
4 years. He spent the early part of this year at TAFE studying for his Skipper and Engineers
certificate and has passed with flying colours! He will hopeful join Bruce and Garry at the Helm of
Kanimbla within the next few months.
Cook/1st Mate is Deb.
Already a Skipper and Engineer is brilliant
in the Galley, the Deck and soon in the Bridge. Deb has been with us
for nearly a year and has proved a great asset to our team …and Adam!
Coxswain
Cameron has been with us for 2 years, the youngest of our crew, has
boundless energy and enthusiasm and is always ready to help.
Coxswain-
Ben he's Master of the filleting knife, Fishing Guru and King of the
impromptu drum solo. Already a professional musician, Ben has just
received his Coxswains certificate. A valuable member of the crew, Ben
has been with us for nearly 2 years.
Deckhand- Charlie is
new to our crew, hailing from NSW South Coast where his family run a
river charter business. Obviously looking for a better climate and
better fishing/diving, we welcome Charlie to the fold.
Regards and Fairweather,
Miss Wistari
Other stories