14th – 24th November 2006
Posted on December 11th, 2006
Adopted son, Bruce R returns for charter No.2 for 2006. He is joined by Mike & Keith for their 2nd 2006 charter and the rest of the crew from OZ and as far afield as NZ. Unkindly, the weather Gods made for some punishing weather as the group  headed off to the Coral Sea… Bruce R Continues the Story…
Wind, Wind, Wind
Bruce Robson
14 November
 
We arrived in Gladstone to the heat and humidity of the tropical climate.  There was a worrying weather forecast with anticipated 25 to 33 kn winds for the next couple of days.
 As we headed off the coast we were headfirst into a north easterly wind and chop.  There was not much roll but the banging and bumping of waves kept us awake most of the night.
15 November
 
It was €˜closed season€™ in the Swain Reefs and at Saumarez Reef and we could not catch fin fish there.  Pelagic fish were still allowed to be caught, and at Hixson Cay we caught a small dogtooth tuna and a trevally in the morning.  These were from dories.  In the afternoon Dave Frederick caught a 14 kg spanish mackerel.
 
Fish of the day was awarded to Dave Frederick for his spanish mackerel.  That night we obtained much-needed sleep
16 November
 
We left Hixson Cay at 6 a.m. with a window of weather which gave us better travelling conditions.  We trolled towards the north end of Saumarez Reef and caught 3 dolphin fish nearby.  These dolphin fish were in the 10 to 12 kg range and were caught by Mike, Peter Chancellor, and Bruce.  The wind was north-west 15 to 20 kn and as we continued further we caught nothing in the empty ocean voids.  We arrived at Frederick Reef at 8:30 p.m. and anchored in the southern lagoon.  Another vessel, the Tura, was there with skin-divers on board. 
 
Fish of the day went to Peter Chancellor.
17 November
 
The wind was 20 to 25 kn from the southeast and the weather was fine.  Early fishing off Kanimbla produced one nice blue spot maori cod by Dave and one green job fish.  After breakfast we trolled from Kanimbla in front of the Frederick Reef light where we caught approximately 10 yellowfin tuna to about 5 kg.  Some of the tuna were eaten by sharks and we did not have a hook-up from a wahoo.  Later in the morning we drifted in the lagoon on Kanimbla for white lipper.  The afternoon saw 4 dories out when we trolled and drifted for white lipper and green job fish in moderate numbers.  That evening there was shark fishing and a number of smash ups and bite offs were experienced. 
 
Fish of the day went to Jeff Shaw for his blue spot maori cod.
 
18 November
 
The wind remained 20 to 25 kn from the southeast, and the conditions were sunny.  In the morning we trolled on Kanimbla to Ridge Rock where we caught one green job fish one yellowfin tuna and one blue spot maori cod.  This cod was caught by Sean when jigging.  Most of the rest of the day was drifting on Kanimbla where we got a number of white lipper and a couple of green job fish. White lippers were to prove to be the most prolific fish of the trip.
 
Fish of the day was a blue spot maori cod caught by Sean.
 
19 November
 
The wind remained the same with about 50% cloud cover.  We caught one green job fish at the mooring and had a few hours trolling for one yellowfin which weighed approximately 15 kg – by Wayne.  We jigged without any success. 
 
Fish of the day was Wayne€™s yellowfin tuna.
20 November
 
The wind reduced slightly to 20 to 25 kn.  We trolled from Kanimbla east of the light and caught approximately another 10 yellowfin.  Sean lost what was probably a big dogtooth after it ran him down into coral in over 300 feet of water.  Later in the southern lagoon Keith Acland got a lovely blue spot maori cod and 3 others were also caught as well as white lipper and a Coronation Trout by Peter Challoner.  Dave continued to catch a number of green job fish and show the rest of this just how successful he could be with this species.  In the afternoon we used four dories to have a change of place which was appreciated.  From the dories trevally, white lipper, one coral trout and one coronation trout were caught.
 Fish of the day was by Keith Acland with his maori cod.
21 November
  The wind continued as previously.  One Dory went fishing without any success.  Kanimbla trolled and caught three yellowfin and, at last, one wahoo of 21 kg.  This was caught by Peter Milczarek on Mike's fishing gear.  Mike had asked Peter to look after the gear while he went to the toilet, and it was only a few seconds later that the wahoo hit.  We also jigged about half an hour east of the northern reef for one trout cod and Sean lost another good-sized fish.  In the afternoon one dory went out again for no fish.  Kanimbla drifted in the lagoon for one maori cod a number of trout cod and white lipper.
   Fish of the day was shared by Peter and Mike which was the 21 kg wahoo.
 22 November
 The wind reduced to 10 kn from the southeast for half an hour and then resumed up towards the 20 kn mark.  In the morning we trolled for a while to record a medium number of small yellowfin to about 6 kg.  Sean caught an 8 kilogram green job fish on a skirted lure and brought it in across the surface.  In the afternoon we drifted on the west side of the light we were caught some white lipper, and trout cod. Kanimbla then went down the Dangerous Ridge where we drifted for a similar fish but achieved no results on jigs.  We finished at 4 p.m. and cleaned up in preparation through the trip to Swain Reefs, as the €˜closed season€™ finished at midnight.  The wind was down to 15 kn from the southeast.
 Fish of the day were green job fish from Scott and Sean.  We travelled overnight to the Swain Reefs
23 November
 
We arrived at Sweetlip Reef within this Swain Reefs complex and fished from 6:30 a.m. till mid day in dories and caught approximately 30 to 40 trout and sweetlip. 
 
Keith got a red emperor which went on to become fish of the day.  The wind remained at 15 to 20 kn from the southeast.
24 November
 
We arrived back in Gladstone in the early hours divided up the fish and said our farewell.  We each ended up with approximately 40 packs, of which 25 were white lipper.
 
Fish of the Trip was awarded to Peter Milczarek for the 21 kg wahoo.
 
Fisherman of the Trip was awarded to Dave Fredericks for all the job fish that he caught and his persistence.
 
Bruce Stobo and crew were thanked in the usual fashion for their sterling efforts, hard work and pleasant personality. As always it was a real pleasure to be on Kanimbla.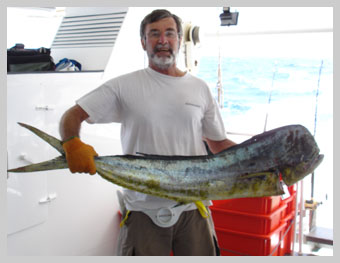 Keith's Maori Cod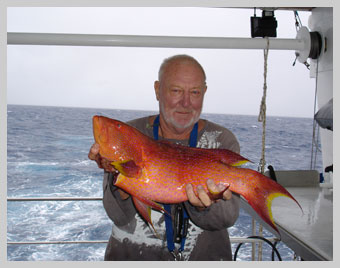 Fisherman of the week Dave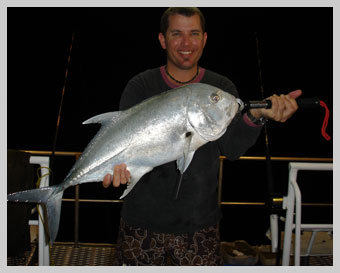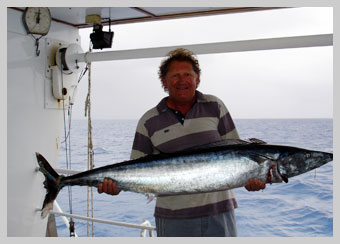 Other stories