24th November – 4th December
Posted on December 15th, 2006
Glutton for punishment or Mad keen? Bruce R takes his 4th charter for the year for a back to back Coral Sea charter. Here is his report:
Kanimbla 24 November to 4 December 2006
Aargh! Smoked!! Reefed!!!

Many of the group of the 17 excited fishermen arrived in Gladstone on 23 November and stayed at the Mid City Motor Inn overnight.  Next day others came by plane and car.  The previous 10 day trip, which docked that morning, had encountered very poor weather conditions and had their fishing restricted as a result of this.  While the weather was improving somewhat there were still concerns that it may again return to the conditions of the previous trip. There was a huge assortment of gear on the unusually cluttered top deck of Kanimbla with a variety of rods and reels. Team 130 even brought a swag of Tiagra 130s, the first I have seen on this type of trip. Most of the game reels were Tiagra 50s and similar sizes. General reels consisted largely of Saltigas, Penns, and TLDs.

25 November 2006
  The trip out was reasonable although a few people suffered from a north easterly swell.  We arrived at Sweetlip Reef at 8 a.m. with the easterly wind of 15 to 20 kn blowing.  Six dories departed Kanimbla and a few red throated emperor and coral trout were caught.  In the afternoon 2 dories went out for a few fish while a majority of people fished from Kanimbla for trout and sweet lip. That night we left for Saumarez Reef.
Fish of the day went to Paul Duren for a 3 kg red throated emperor. 

26 November 2006
We arrived at Saumarez Reef at 3 a.m. with the wind blowing from the southeast at 10 to 12 kn and caught a few white lipper at the anchorage before a trolling session.  Reg caught a yellowfin tuna, Jason and Kevin caught dolphin fish, and Paul trolled a green job fish.  Various other yellowfin tuna and dolphin fish were caught, including a small dog tooth tuna and dolphin fish.  At one stage we had fishing mayhem with yellowfin taking a number of lures, three yellowfin tuna were brought to the boat and some were sharked.  Bruce commenced jigging and caught a dogtooth tuna of 22 kg, with a shark chasing it to the surface.  Paul lost a good dogtooth after a fight as did Steve and many others. Being €˜smoked and reefed€™ against a large amount of drag became the most common of activities €" nothing would stop some of those dogtooth before they reached the safety of the coral.  Grant jigged a shark, Daniel got a dogtooth which was sharked and he fought the shark on 130 pound line that straightened an Owner Jobu 12/0 hook. George was spooled with 500 m of 24 k line during the jigging session. €œExcitement€ is a euphemism for that session.
 In the afternoon we caught more yellowfin and dogtooth. Paul caught a 12kg coral trout. We anchored at the northern end of Saumarez Reef overnight and in the morning the wind was easterly at about 10 kn. 
 Fish of the day was Bruce€™s dogtooth.
 27 November 2006
  From the morning dory session, Phil Bates eclipsed every one else with a dogtooth tuna of 60 kg.  This was caught on a go Yo-Zuri orange and yellow bibless lure, a Tiagra 50 wide and a custom Loomis rod with 24 KG line.  Various other dogtooth were brought in and Jason Harlock had his doggie, of about 30 kg, attacked by a shark
 In the afternoon the wind was 15 to 20 kn from the east.  No fish were caught out of the dories.  Bruce and Reg got a few white lipper and trout cod from about 1530 hrs.  We stayed behind Saumarez Reef that night and commented on the lack of wahoo that day.
 Fish of the day it was clearly caught by Phil Bates, a magnificent 60 kg dogtooth tuna.
 28 November 2006
 We arose to find that the wind was 15 to 20 kn from the southeast.  In the morning we travelled to the south of the Saumarez Reef complex with very poor results along the way.  In a dory Dan caught and released a coral trout which was about a metre long.  In the afternoon we trolled to Zenobia Rock and caught dogtooth tuna, yellowfin tuna, and green job fish. We stayed near the northern end of Saumarez Reef till midnight, and then departed for Frederick Reef.
 Fish of the day was given the Daniel Bennett for his large coral trout.
29 November 2006
 The wind was from the southeast at 10 to 15 kn when we arrived at Frederick Reef.  Six dories went out and we landed a catch of nine Wahoo between 10 and 30 kg and many yellowfin tuna.  Green job fish were also on the chew.  Craig caught and released a good sailfish from one of the dories and two small sunfish were sighted, these are the first small sun fish seen out there on our trips.  In the afternoon we all went out in the dories again with Grant, Kevin, and Jason chasing birds and found yellowfin up to 25 kg jumping 3 metres out of the water.  They trolled around the area and got triple hook up on dogtooth.  Grant€™s was the largest at 33 kg.  Bruce and Reg saw the action and decided to troll past with Bruce connecting and landing a 41 kg dogtooth.  Various yellowfin and other dogtooth were caught that afternoon. The Commons brothers landed some great yellowfin. We overnighted near the north cay at Frederick Reef.
 Fish of the day was Craig's sailfish.
30 November 2006
 The wind lightened to 5 to 10 kn and was still coming from the southeast.
We travelled to the much anticipated Calder Reef [underwater seamount that comes from deep ocean up to a depth of 40 metres] area but failed to get a hook up along the way. As we trolled over the position of the seamount nothing showed up on the depth sounder, and there was a little uncertainty amongst some fishermen.  Captain Adam Houghton got out the binoculars and saw some different water about 2 km away, and when we went to that area we found the sea mount. The charts were wrong according to 4 GPS devices!  Bruce hooked a marlin which was variously estimated between 75 and 150 kg.  This immediately took out 500 m of line in a series of jumps but it also formed a loop, and  the line gave way just behind the double.  The crew reported that this marlin was followed by a smaller marlin, and during the day a number of other marlin were spotted on the surface.  A number of yellowfin and wahoo were caught at the seamount and at lunchtime we had a jig for whatever was on the bottom, these turned out to be lunar trout.  By early afternoon there was no wind and the swell was only about half a metre – the conditions were almost perfect. During the afternoon John caught a yellowfin tuna estimated at about 37 kg and Bruce caught a 35 kg yellowfin tuna.
 The troll back to Frederick Reef produced no fish.  It is really hard to describe what a great day of fishing occurred and that it was in such a unique and unusual environment -where the water visually appeared as open-ocean but the fish were prolific.
 1 December 2006
 The weather had deteriorated slightly with the southeast breeze of a 10 kn and cloudy conditions at Frederick.We did a troll along the outside of Dangerous Ridge, which is in between the North and the South Reefs at Frederick.  There we caught three wahoo and a number of yellowfin tuna.  A billfish followed Jason's skip bait but didn't take it.  In the afternoon we drifted in the southern lagoon from Kanimbla for green job, fish blue spot maori cod and white lipper.  That night John and Dan fought a large stingray to the service which came up with five of its friends swimming around it and trying to assist it to get back down again.
 Fish of the day went to Ross Woodward with his 5 kg blue spot maori cod.
 
2 December 2006
 The wind was from the East at 12 kn and we trolled for yellowfin tuna and one wahoo from the dories.  Bruce and Jason stayed on Kanimbla for a number of good size green job fish. The largest being checked in at 9 kg, with Bruce being lucky to catch a 75 cm blue spot coral trout.  Ross caught another nice blue spot maori cod
 In the afternoon lot of large yellowfin tuna were caught to approximately 40 kg, these were catch and release. Reg caught two beaut blue spot cod. Kevin fished with Craig and Paul and reported becoming exhausted from fighting large yellowfin tuna and felt that it was his best fishing time for good-sized fish that he had ever experienced. A number of other anglers echoed Kevin€™s comments. Some even said that they were glad that the session was over as they didn€™t have the strength to tackle another large yellowfin. After tea we upped anchor and departed for the mainland. 
 Fish of the day went to Ged Lodder for his 9 kg green job fish
 
3 December 2006
 The wind was calm and the seas the flat – the conditions were perfect as we travelled back on the way to Gladstone.  At 5:30 a.m. a small pod of dolphins positioned off the front of Kanimbla and seemed to be saying farewell.  A little later that morning Kevin caught a wahoo around 20 kg and Steve later caught 2 wahoo in the 10 kg range.
 Fish of the day was Kevin's wahoo.
 
As usual at the end of the trip be skipper and crew were congratulated on all their skills and hard work, and Deb and Adam were given best wishes for their forthcoming marriage.
Fish of the Trip went to Phil Bates for his magnificent 60 kg dogtooth tuna.
 Fisherman of the Trip went to Paul Duren for his persistent and successful efforts.
4 December 2006
 We were awakened at four o'clock, had breakfast, distributed our fish, and said farewell with best wishes for the return journey and our next expedition to the Atolls of the Coral Sea.
 This trip provided us with our best consistent run of large fish €" those that we caught and those that we didn€™t!!!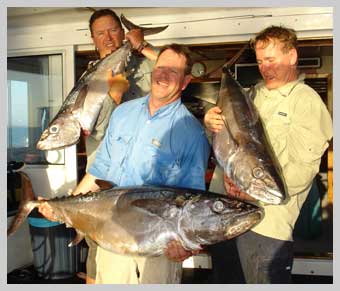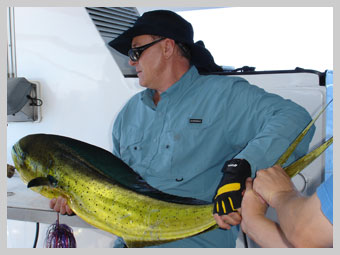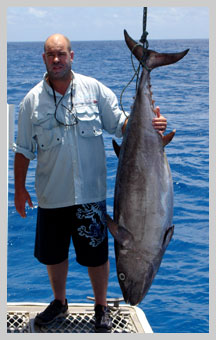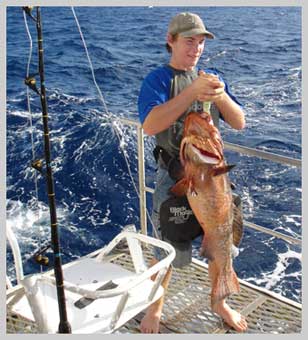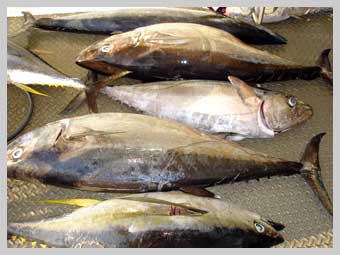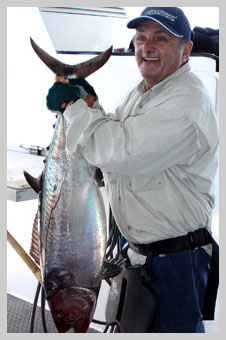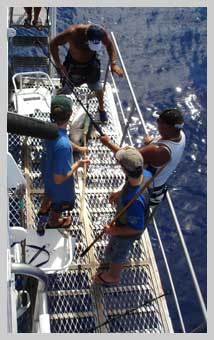 Postscript:

 Every now and again, the fish are plentiful, big and hungry on a charter; this was one of those trips.

 Medium sized reels accounted for proportionately more and better fish than the largest outfits. Usability and manoeuvrability appear more important than outright strength and length of line, especially when used as a stand-up outfit.

 Red and white coloured lures were particularly successful on this trip.

 Three one piece rods became two piece rods during bouts of fierce competition.

Other stories