15th – 25th February 2006
Posted on February 26th, 2006
Light winds greeted our 1st group of charterers for 2006. A group comprsing of 8 fellows from Parkes led by Laurie Neville and a small 8 man contigency of Super Seamen led By Bruce Robson boarded the recently repowered Kanimbla on a 10 day charter to the Coral Sea.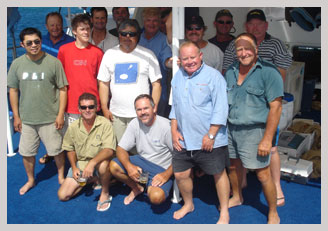 The group spent a day or 2 at the Swains reefs before heading out to Saumarez and then on to Frederick Reef. Some good pelargic fish were caught, but the Coral Sea reefs proved quieter than usual for fishing.
After a forecast of increased winds, Kanimbla returned to the sheltered Swains Reefs. Some fine table fish were caught.
Here's Bruce Robson's report of the trip:Hot Water and Warm Fishing Kanimbla, February 06
We all eagerly anticipated a ten day trip to Swain Reefs and the Coral Sea for early in 2006. The dates from 15 to 25 February were indelibly imprinted into our minds as we had not fished this early in the season before and wondered what may be awaiting our lures and hooks. It was to be two groups of eight fishermen, one group from around the Parkes area/Country NSW and another from around Port Macquarie/Mid North Coast of NSW.Prior to the trip the water off the NSW coast was unusually warm and the SST thermo-photographs of the East Australian Current showed 28 degrees, or more, for much of the north coast. No cyclones were on the synoptic charts and a moderate amount of wind was forecast.Most of us arrived around noon and Kanimblas new Volvo engines started up at 1700 hours. They were somewhat quieter, not so much in total decibel level, but more of a limited range of frequency. We were awaiting that breathtaking burst of speed that was promised by Bruce Stobo and hoped to be the first group that water-skied around Frederick Lighthouse. Bruce had on a newly presented Not Another Bloody Volvo Driver T shirt. Unfortunately we had a 20 knot SE wind and experienced the typically bumpy first night as we headed to the Swain Reefs for some initial reef fishing.
Thursday morning saw us at Sweetlip Reef where we fished both the dories and main boat in the morning and afternoon. A good number of coral trout, sweetlip, spangled emperor and, undersized red emperor were caught. Fish of the day went to Ron Perry for a Barramundi Cod, which he released. Trolling produced one sharky mackerel.
Friday saw the wind SE at 10 knots with Khan Le catching [and releasing] a GT around 40 kg on a popper off the back of Kanimbla. The fight lasted about 15 minutes on an eggbeater with 24 kg line and won him fish of the day. Dories tried the shallows and drop-offs for trout and sweetlip while Kanimbla caught mainly sweetlip on the drift. By the afternoon the wind had dropped to 5 knots. We headed out to Saumarez Reef that night.
Saturday saw the wind back to 15 knots. There were no wahoo on the troll and we mainly caught white lipper and green jobfish with Nigel catching a lovely coronation trout to claim fish of the day. We left for Frederick Reef at 1700 hours on a fairly comfortable sea. Some large white lippers were caught in the southern lagoon.
Saturday saw only one boat troll around the east of Frederick Lighthouse as the wind was 15 to 20 knots and the seas were lumpy. After three passes, Khan and I decided to finish our trolling east of the Light when the seas became a bit too lumpy, and the Webster wanted to dig into a few waves. We did not get a touch from a wahoo and this was to be the story for the rest of the trip as far as these fastest pelagic fishes were concerned. Some dories drifted west of the Lighthouse and Reg caught a nice blue spot maori cod, and Lawrie Neville got a large green job fish [fish of the day]. In the afternoon a few went to the sand cays but did not get any GTs.
Monday saw us at the southern end of Frederick Reef with a lot of trolling and jigging by some of us. The results were a few dogtooth tuna and green job fish. In the late afternoon Kanimbla went for a brief troll and the yellowfin, which were absent in the morning, had returned. Brett and Michael got yellowfin tuna in the 20 kg class and Bretts took fish of the day. That night we travelled back to Swain Reefs.
The morning session saw us at Billy Reef in 15 to 20 knots of wind and here where we caught a number of sweetlip and trout in the shallows. There was a lot of surface activity by birds and fish so Khan and Balls went dory fishing for 3 spanish mackerels in the morning. That afternoon Daniel caught a 20 kg spanish mackerel in the afternoon after a good tussle. At 16 years of age this was his best ever catch by a large margin, and it earned him fish of the day. A few other mackerel were also caught and many of them, like Daniel's, were foul hooked. The catch from Kanimbla was poor.
Wednesday saw similar conditions and a generally declining catch of the same species. A tropical cyclone was appearing to form far to the north of us and we would not have known about it except for the weather reports. Bob Barrett got the fish of the day with a large blue spot trout.
Thursday saw an increased in wind speed to 25/30 knots with a few rain squalls. Kanimbla was anchored in deeper water for the night and early risers were rewarded with a Spanish mackerel and a few red emperor. Geoff Staines red emperor was fish of the day. We were at Chinaman Reef then another unnamed reef. Few fish were caught in the shallows and were mainly spangled emperor and coral trout. Four sizeable GTs were caught fishing off Kanimbla in the afternoon. The quadruple hook-up was by Khan, Mark, Geoff, and Bruce. Fishing off Kanimbla that day produced only modest results.
Friday saw similar conditions with a few red emperors being taken by early risers. The fish catch continued to slowly decline and few were caught. Mick Magill caught the fish of the day, a coral trout. We packed up at noon and headed home on a bumpy sea.
Fish of the trip was awarded to Bob Barret for a sizeable blue spot trout.
The crew consisted of Bruce, Deb, Charlie and Joel. They worked as hard as usual and delivered their accustomed superb service.
———————————————
Discussion: the lack of wahoo was disappointing, and with the very warm water down the NSW coast, they had been reported right down to the south coast. Obviously each year has different currents and while it was a month later [19-26 March] in 2005, the wahoo were in almost plague proportions at Frederick Reef. In 2005 we were very lucky and in 2006, missed them altogether.
Other stories