Plea for Writers / Polo Shirts
Posted on May 10th, 2006
In a lame attempt at an excuse, I would like to plead creative exhaustion. I am running out of superlatives / adjectives for your fish- great, magnificent, stunning…etc..etc.
Whilst all the fellows have been pulling in the big fish, none have offered (except BruceR) to write a post- after all, you were there and I'm sure there must be some great tales I never hear about. (of course we can't transgress the "what happens at sea stays at sea" rule).
So again, I 'm sending out the invitation to tell your story. You can contribute by emailing a 'Word' document -x500 or so words in length is ideal. Alternatively a standard letter is just fine and I can transcribe it to this site.
Even if you feel that you are no Hemingway, you are always welcome to add your comments to each post.
So I'll get busy posting the last few weeks of Trip Reports and you get busy writing too!
T-SHIRTS!
We have a new style T-Shirt, suitable for all occasions – including the Apocalypse! Our new shirts are made of :
*100% Polyester (screams 'Retro')
* Static Electricity Free
* UV Protection Rating +30
* Anti- Bacterial
* Cool/Dry Effect
*Anti – Asteriod crashing to Earth (not really)
* Anti – Snakebite- According to Bruce, none of our clients have been bitten by snakes whilst wearing these shirts.
And….My favorite ..zero . nil. zilch .no iron!!
Our models , Capts. Deb & Adam demonstrate their very best catalogue poses whilst wearing their Kanimbla Polo Shirts – Here's a close -up of the Logo.
The Polo's are available in sizes Medium – XXXLarge and Ladies sizes 12-16 all are $35 on board the Kanimbla or add $4 for postage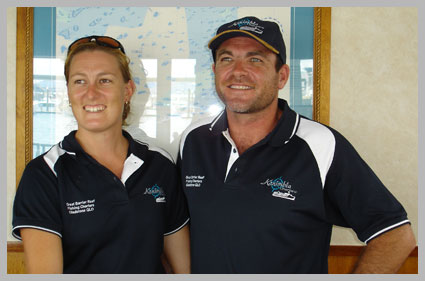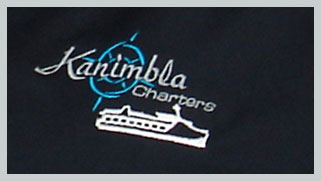 Regards & Fairwather
Miss Wistari
Other stories