7th – 14th April 2007
Posted on April 25th, 2007
Bruce Robson's N0.1 Charter. Here is his report:
Kanimbla fishing trip 7 to 14 April 2007
 With 17 excited fishermen we left the Gladstone Marina at 5 p.m. on Saturday 7 April 2007.  The wind was from the southeast at 25 knots, and forecast to stay the same to the next couple of days.  Unfortunately it remained in the 25 to 30 kn. category for the whole week. Even in Gladstone Harbour there was a need to be aware of the roll of the ship. The ride out was uncomfortable with more of a roll than a bump due to the seas being side on.
On Sunday 8 April we arrived at Abraham Reef and had a sunny sky with a few clouds.  We fished there in the morning and the afternoon sessions and worked a lot of lagoons, but few lipper and trout were caught.  Tatsuo [out from Japan for the trip] caught a gold spot trevally of about 4.5 kg and a few nice parrot fish.  Khan trolled garfish but had no hook ups from spanish mackerel.  Five dories were out on both the morning and the afternoon sessions.  Fish of the day went to Wazza for a 3 kg red throat emperor [sweetlip].
True to the forecast, the wind remained in the southeast at approximately 25 kn.  In the morning we fished an unnamed reef where Dom and Colin trolled up two spanish mackerel.  Dave got a cobia and a few others caught hard fighting spangled emperors.  In the afternoon we fished the maze of reefs known as Sanctuary Reef.  Reg was lucky to get a spanish mackerel on a pilchard without any wire.  Dom caught a nice red throat emperor and Andrew Campbell caught a good relatively rare long nose emperor.  Fish of the day went Colin Shepherd for his 16.5 kg spanish mackerel.
Tuesday saw a very slight decrease in the wind but it was still blowing over 20 kn from the southeast.  We remained at Sanctuary Reef and had a good catch of lippers and trout.  Some of the guys went diving and reported large schools of spangled emperor which they found difficult to spear, however they managed to get a number of trout.  In the afternoon we got a good catch of red throat emperor and Khan and Colin had a particularly good afternoon with these fish.  Bernie got an energetic 6 kg spangled emperor on a sidecast which went on to be fish of the day.
On Wednesday the 11th the weather stayed the same with a bit more cloud.  We were still at Sanctuary Reef and in the morning had a good catch of red throat emperor and coral trout.  In the afternoon we had a few less fish than in the morning, but a good catch nevertheless.  After a few rain showers we were glad to get back on Kanimbla at the end of the afternoon session.  Fish of the day was hard to choose as there were a number of good quality fish and it was decided to give the award to Trevor and Kevin Nott for their combination of good catches.  That evening we had lobster and calamari as entree with coral trout as a main meal.  This combined with a white wine added to the touch of class that we have come to experience on Kanimbla.  Wazza provided Black Russians as nightcaps and we were unsure whether to call him a Czar or an Emperor.
On Thursday morning we were at an unnamed reef where we got more red throat emperor and coral trout.  Dominic caught a big red throat emperor which was named fish of the day. In the afternoon we went to and other no name reef and our catch declined.  Andrew Campbell successfully caught a large moray eel which he fortunately cut off before it came into the boat.  Once again that night there were drinks of various sorts and Bernie San [as said with a Japanese inflection] was the chief barman – despite the fact [or maybe because] that a number of other fishermen managed to confuse him by switching the drinks as he was mixing them. He claimed that he could not smell which drinks he had put rum into!!
Friday saw us at the well known Hixson Cay where we had our last morning in the wind and a few showers.  Lots of lippers and trout were caught in the shallows and Rex got a very nice spangled emperor.  Andrew's new Penn 850SS gave way when its handle broke while pulling in a large fish.  Reg and Bernie got over a tub of trout and lipper in that session.  Dimitri, Dave, and Paul got a large number of trout by spearing.  Fish of the day went to Khan with a 16 kg spanish mackerel
We then headed home after packing our gear.
The Fish of the trip award was presented by Bernie Kepars (last year's winner) to Dominic Lum for his red throat emperor.  Reg Latter and Tatsuo Kitazawa were given equal Fisherman of the trip awards. It was tremendous to watch how well Tatsuo mixed with everyone despite his complete lack of English [now 2 words are known €" ripper lipper] and the need to use his son in law, Andrew Plowright, as interpreter for more in depth conversations – well done Tats!
The crew and skipper were thanked in the usual fashion for excellent service and good company, the fish divided up, and we all headed home by various routes.  It had been a good trip despite the windy weather and initially poor fishing. Fortunately the fishing improved as the week progressed. Persisting at the shallows fishing and good company provided memorable experiences that we will continue to cherish.
Bruce Robson.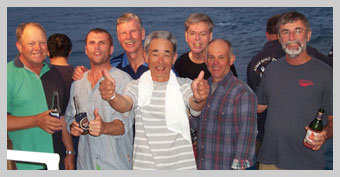 Tatsuo's Aussie Christening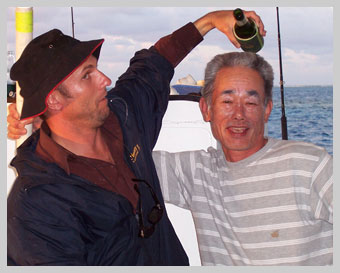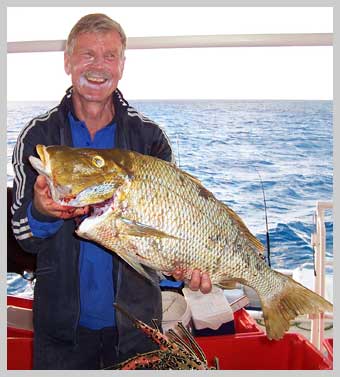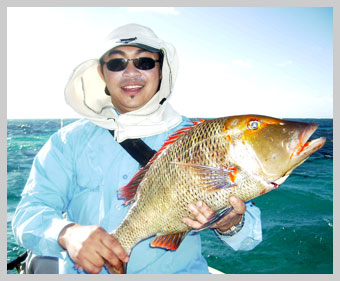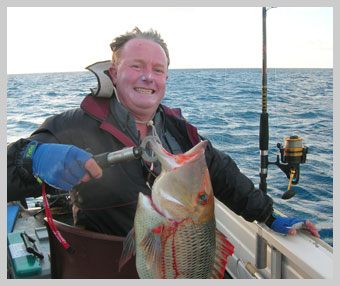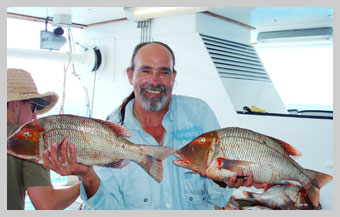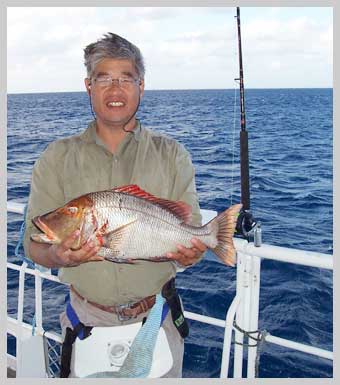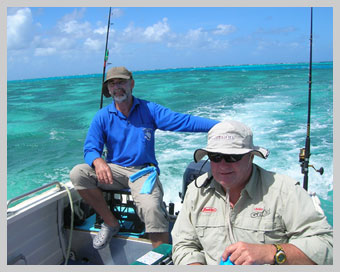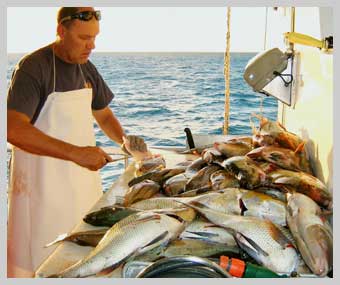 Other stories