April 21st – 28th 2007
Posted on April 29th, 2007
Ray (Conspicuous by the absence of his TuTu) and his buddies from Gunnedah FINALLY had some good luck with the weather after a many years of chartering in 25kn – 30kn winds.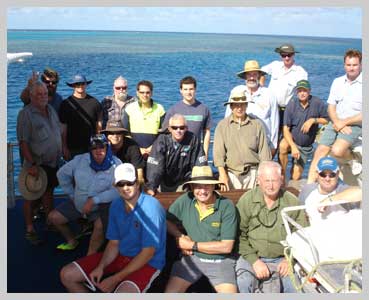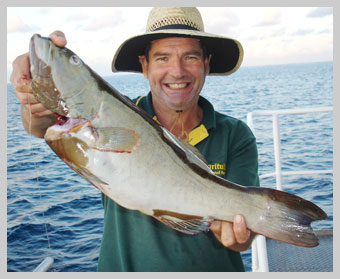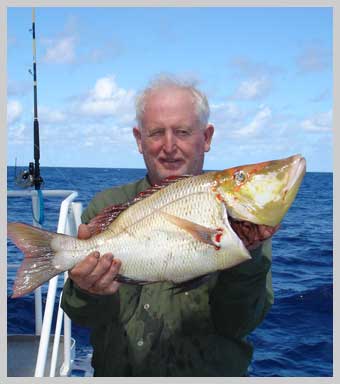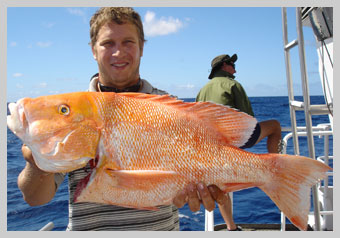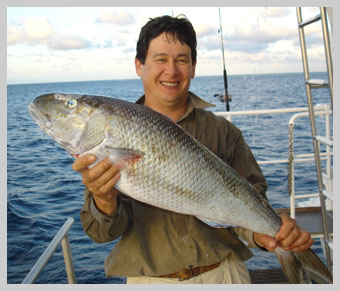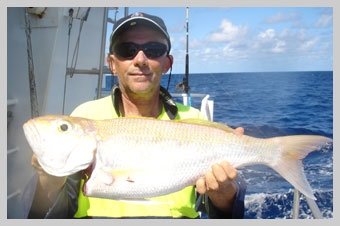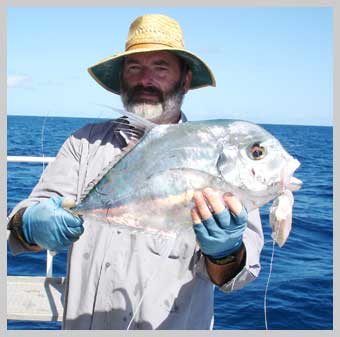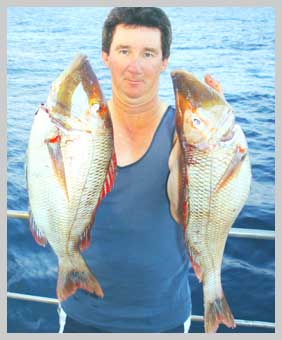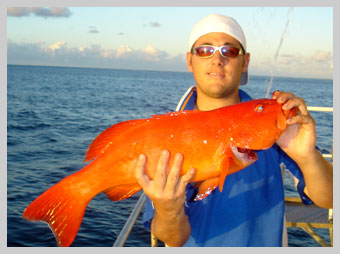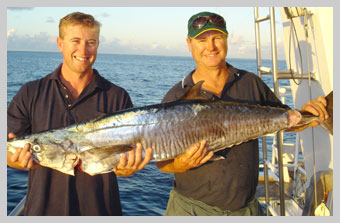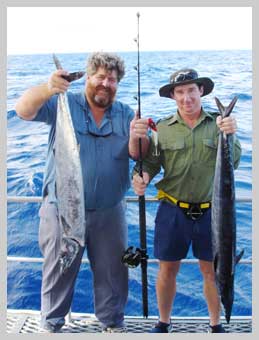 Here's Ray's story of the week!
Swains 2007
It€™s April 20 and there€™s movement at the station.  The boys were on the move.  They came by car, plane (arm chair ride), ute and 4wd All to gather aboard the mighty Kanimbla  once again to sally forth to the far flung and isolated reefs known collectively as the Swains.  And why?  Well that would be to test themselves against whatever finned challenges the reefs could throw at us.  There€™s nothing like fishing in coral with big gear and even bigger bruisers of fish, particularly the mighty sweetlip.  Built like prize fighters, all neck and shoulders, a mouth hard as, and all business, especially in the shallows where they have an uncanny ability to go that extra yard and bust you off on the nearest bommie.  I€™m prattling on€¦ back to the trip.
 
The trip out is in very calm conditions and Grumbles has consulted his wether about whether the weather gods will smile on us for the trip or just do their usual and fart continuously for the duration just to challenge those of us not so well adjusted to a sailor€™s lot.  Well it seems the sheep has spoken, the weather will be brilliant all week!  A gentle trip out past the city of anchored ships waiting their turn to get into port and get loaded, sees us having a few quiet ales and getting to know each other.  There have been a few long lost friends return for this trip, good to see Neil and Troy have run out of excuses.  What!  No weddings, family trips, business to take care of so Grumbles can get away, 21sts, sick mates, poorly cats, sore fingers, etc. etc.  Welcome back.  There were also some newbies, Paul, Doug and Keith, geez I wonder if they€™ll fit in?  Ah well, too late now, there€™s no turning back so they€™ll just have to and if they don€™t we€™ll give €˜em some sort of nickname to help make it happen.
 
After an uneventful trip out, no spewing, no breakages and generally good behaviour (am I on the right trip??) skipper Bruce, henceforth to be known as the Handicapper, pulls up on some reef we have never been to before.  It€™s not what we are used to, can€™t really get into shallows, it€™s pretty small but it does have some nice dropoffs.  Is he trying to avoid the shallows? we are expert in short water having had little option over years of windy jaunts. So he sets the challenge. Anyway we just need something to get us going and get back into the swing of things.  It usually takes a session to get things worked out and show the new blokes how it€™s done.  Off we go in the dories and it turns out to be a pretty reasonable session, better than last year.  A good mix of trout and sweetlip are bought back, no one got lost, crashed into the reef, threw their gear over or even broke it.  This is different from every other trip, maybe we are saving up for gross acts of stupidity later.
 
That night is a good one on the big boat with a lot of good fish caught, lies told and perhaps just a few drinks.  Next morning we move to another little reef or two.  It has shallows but with bugger all tide and you can€™t get in over the reef so the Handicapper suggests we all go fish between the two reefs.  He sez there€™s not much wind or tide so it will be OK in the dories drifting, calm and not too much roll and lots of fish.  OK there were lots of fish, good size and good variety, and we drifted well, but the other bit? well.  When the current stands up against the wind it tends to get very uncomfortable.  But we were catching good fish.  By lunchtime several boats were looking for a bit smoother water.  It was also about this time that I had started my first of a series of stuffups.  Having completed a drift, I discovered I couldn€™t get the motor to start.  After working up a fair sweat, we ended up getting a tow back for another drift, and another and so on.  All OK and we are still catching fish, but slower.  After getting towed back to the Kanimbla, Charlie takes one look without even getting in the boat and tells me I€™ve let the clip fall off the kill switch, dickhead!  Meanwhile, the competition for biggest edible fish had been hotting up with some nice Spanish Mackeral caught by Mark and Neil
After another day drifting in deep water and a fair amount of unintentional burley from the good dory Spewee II, the Handicapper decided we should have a bit more comfort and try for some trophy fish, really big stuff.  Wednesday we will drift on the big boat in deeper water out the front of the reefs.  Sounds OK so lets do it.
 
Here we are then, 15 odd blokes spread along the side of Kanimbla with lines out in about 60-80 meters of water.  Yep, it€™s inevitable.  Tangles.  I can understand a few of us getting tangled with whoever is next to us, but when you have Cas up one end and Foghorn up the other and they are tangling each other?  Despite this we manage a few good fish, Silver drags up the biggest Lipper I€™ve ever seen, Nick gets a nice Red and the rest of us get a variety of Rosy Jobfish, Cod, Trout and so on.  Not as spectacular as we€™d hoped.  But very comfortable and the bar was open from about 8am for some one.  The real excitement was the short trolls between drifts.  Wahoo, tuna and Cobia give us a bit of excitement and keep the day interesting.
 
It€™s Thursday and finally we stopped at a reef with some shallows.  Conditions were calm and there was very little tide, meaning fishing was going to be hard.  Most boats fishing the shallows reported big fish, not lots but bloody big and hard to hold.  I had a pretty bad record loosing about 4 for each one I managed to put in the box.  Even so it wasn€™t taking very long to get a healthy looking box, thank Christ Teena was keeping up his end.  After getting busted so many times I rig up a super strong leader with a new knot, bait up and a big long cast to a good looking bommie, perfect.  Except my new super knot doesn€™t even make it past the rod tip, I€™ve got the perfect bait on brand new hooks and leader on the perfect bommie but I€™m not attached and Teena and the Fed have seen it and are beside themselves.  Major embarrassment!  To make matters worse I break my top runner later after tangling with coral.  Usually these sorts of things aren€™t that notable because someone will have done something really stupid like drop a rod over the side, break one in half or even drive a dory up onto the reef.  Looks like I get the dumb and dumber trophy for this trip.
 
Friday and we€™re almost out of time.  One last go before we have to pack up and head back to Gladstone.  We have stayed on the same reef so we know it a bit better but conditions are even calmer and the fish spookier. Grumbles takes his crew off to one of the Handicapper€™s secret GPS marks and does well.  The rest of us try shallows with varied success until team Mafia (the two Dons looking after a Mick) find some current and get stuck into beautiful big lippers with the odd monster trout thrown in.  This is what the Swains is all about.  I still can€™t believe how much fight these fish have in shallow water.  We are still getting busted up, reefed, hooks straightened and some creaks and groans in these big heavy rods but we have learned a thing or two and a fair few of these fighters have met their match.  You beauty, three quarters of a box full by the time the drinks boat comes around to take them back and give us some more bait.  While haven€™t bagged out this year, we have come very close and will take back more packs than we ever have.  Unfortunately the tide starts to slack off and time is short, it€™s a long trip back to reality but there is always next year€¦
Don C
 
Footnote:
The sympathy card of the week goes to Donny Mac after experiencing the tragic loss of his first everWahoo. Better luck next year Silver.
 
Other stories