Kanimbla's Baked Whole Fish
Posted on September 10th, 2005
This is the simple recipe we use onboard for your Baked Fish. We prefer to use Coral Trout or Red Emperor as these fisf bake well and look quite impressive.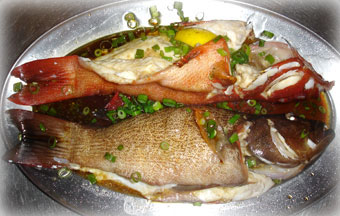 Take 1 freshly caught, reef fish.
Place on a rack in a baking dish filled with 1 cm water for steaming.
Place in the gut cavity- minced garlic/ginger with some quarters of lemon/orange
Cover with aluminium foil.
Bake for around 50mins in 180c oven.
When cooked, flesh should easily flake away.
Place fish on serving tray.
Sprinkle with chives and pour over about one third cup light soy sauce.
As the finale pour over about 3tbl spoons of very hot oil to blanche.
Lastly prepare for huge addulation from your fellow diners
Other stories