Trip report posted at 7:15 pm on the 26th February, 2006
Light winds greeted our 1st group of charterers for 2006. A group comprsing of 8 fellows from Parkes led by Laurie Neville and a small 8 man contigency of Super Seamen led By Bruce Robson boarded the recently repowered Kanimbla on a 10 day charter to the Coral Sea.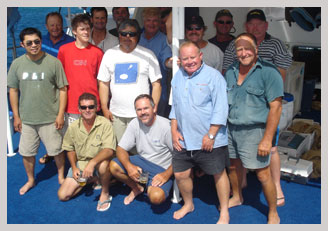 The group spent a day or 2 at the Swains reefs before heading out to Saumarez and then on to Frederick Reef. Some good pelargic fish were caught, but the Coral Sea reefs proved quieter than usual for fishing.
After a forecast of increased winds, Kanimbla returned to the sheltered Swains Reefs. Some fine table fish were caught.
Here's Bruce Robson's report of the trip:Hot Water and Warm Fishing Kanimbla, February 06
We all eagerly anticipated a ten day trip to Swain Reefs and the Coral Sea for early in 2006. The dates from 15 to 25 February were indelibly imprinted into our minds as we had not fished this early in the season before and wondered what may be awaiting our lures and hooks. It was to be two groups of eight fishermen, one group from around the Parkes area/Country NSW and another from around Port Macquarie/Mid North Coast of NSW.Prior to the trip the water off the NSW coast was unusually warm and the SST thermo-photographs of the East Australian Current showed 28 degrees, or more, for much of the north coast. No cyclones were on the synoptic charts and a moderate amount of wind was forecast.Most of us arrived around noon and Kanimblas new Volvo engines started up at 1700 hours. They were somewhat quieter, not so much in total decibel level, but more of a limited range of frequency. We were awaiting that breathtaking burst of speed that was promised by Bruce Stobo and hoped to be the first group that water-skied around Frederick Lighthouse. Bruce had on a newly presented Not Another Bloody Volvo Driver T shirt. Unfortunately we had a 20 knot SE wind and experienced the typically bumpy first night as we headed to the Swain Reefs for some initial reef fishing.
Continue Reading »